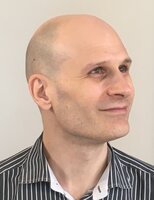 I am a programmer, baritone, and writer. Underpinning all my activities is a keen interest in language and languages.
In informatics, my academic background in computer science, including a PhD on virtual machines, has led to work on a wide range of commercial projects (as SC3D) and free software (I am a prolific maintainer of many packages, as well as Debian Maintainer and GNU Maintainer).
As a singer, I pursue a varied freelance consort and solo career.
My published writing ranges from translation of theoretical computer science to song lyrics. A mock–mock-epic in verse and a new sort of diary are both available to buy in beautiful hand-made editions. I also work as an editor, proofreader and archivist; I recently built the educational resource for and archive of semi-staging of classical works, Boyde's Classic Dramas.
Do tell me about anything here that intrigues or entertains you, or that is confusing or doesn't work, and please point out any errors you find. Thanks to all those who have done so!
---
Last updated 2023/09/23